Welcome to part 2 of our series on investing in Sokcho. The series follows a group of Seoul Real Estate Investing Meetup members' whirlwind 19-hour day as they traveled to Sokcho to check out the properties of two of our investors and explore a unique Korea-focused real estate buying strategy using jeonse.
One thing is apparent from our conversations with the Sokcho investors: their search for desirability.
What is desirability? A quality of the real estate property that people will always be attracted to. Some common desirable factors might be:
Proximity to a great school
Beautiful ocean views
Beautiful mountain views
In fact, the investors in question chose to invest in Sokcho because of what they see as Sokcho's inherent desirability as a location (i,e., its proximity to Seorakasan and the ocean).
As we drive to Property #2, we can see right away that one of its big desirability factors are its clear, unobstructed ocean views.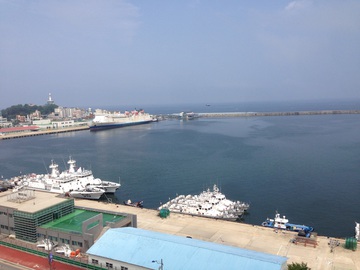 Of course, finding a desirable property is only part of the process. There are countless, beautiful, desirable properties located throughout Korea and the world. As a real estate entrepreneur, you need to go one step further; you need to buy these desirable properties at a discount to what they're "worth. "
You saw with Property #1 how our Sokcho Investors were able to more than double their 3,000,000 won initial investment right from the outset of their purchase.
A property is only valuable to a real estate investor if it's selling at the right price. A really nice home selling for an exorbitant amount might be fine for the homeowner who's blinded by thoughts of raising kids there and showing off a new bbq grill. But for a real estate entrepreneur, whose goal is to make money, and more importantly, not lose money, price is all important.
The difference between what you pay for a property and what a property is worth is what Warren Buffett would call your "margin of safety. "
Every investment you buy should come with an adequate margin of safety that takes into consideration:
Potential upside (how much you can make)
Effort needed
Risk (usually measured in terms of how much you pay)
The higher the risk and effort, the more margin of safety you'd want built into the deal. Do not speculate in real estate and hope for prices to go up; buy at a price that guarantees a profit.
How is this done?
By searching out mispriced assets (property). Assets that are being sold for less than what they're worth.
Let's take a look at how our Sokcho investors apply intelligent investing rules to Property #2.
Original asking price: 150,000,000 won
After negotiations: 100,000,000 won + 10,000,000 won for all the furniture
Jeonse deposit from new tenant: 100,000,000 won
Out of pocket price for our investor: 10,000,000 won
For 10,000,000 won our investors were able to get a room full of very nice furniture (in fact, one regret they had was leaving the nice furniture in there and not replacing it with sturdier furniture) and control of an apartment in this building:
Here's an important point to consider: The negotiation down to 110,000,000 won wasn't simply an arbitrary number to buy low; it was based on understanding the market and knowing what the current jeonse rate for the apartment was. By knowing that information ahead of time, they could make a calculated purchase based on risk vs reward. By having this knowledge ahead of time, they could negotiate and explain their reasoning while also knowing how much margin of safety they were comfortable with purchasing at.
150,000,000 won represented a fair price for the property
But at 110,000,000 won (including furniture), our investors were severely limiting their downside risk.
Their tenant would provide most of the upfront cost. And in the worst case scenario, they could sell their property for 110,000,000 won rather easily and have a net profit of a room full of nice furniture!
Sound easy? In theory, it is. But in practice, it takes a lot of research, a lot of study, and an understanding of the market and risk.
What do you think? Do you think they got a good deal? I'd love to hear your feedback.
The Sokcho Real Estate Investing series is not intended to encourage people to invest in Sokcho. Nor do we have any products for sale or investments opportunities to offer. We simply want to help educate our members about potential Korea Real Estate investing strategies through the experiences of some of our members. We welcome all feedback.