Welcome to part 1 of our series on investing in Sokcho. The series follows a group of Seoul Real Estate Investing Meetup members' whirlwind 19-hour day as they traveled to Sokcho to check out the properties of two of our investors and explore a unique Korea-focused real estate buying strategy using jeonse.
On Saturday, August 1, a group of Seoul Real Estate Investing members took a field trip to Sokcho to check out real estate investments. Sokcho is a year-round tourist destination because of its pristine beaches and proximity to Seoraksan. It also boasts some of the best schools in the Gangwon-do and a ferry that goes to Russia.
Two of our members have over 10 properties in Sokcho. They showed us their properties, explained the process of finding and buying deals, introduced us to their agents, and best of all, went through the detailed numbers of each purchase.
We covered a lot of information in one day. Rather than write it all up in one email, over the next few weeks, I will be writing a series of emails detailing all that we learned.
Our day started bright and early at 5:30 am. Despite a little drizzle and an unusually long 6-hour drive to Sockho, we were all excited to learn. We would return that night in the rain, giving us a total of 9 hours of driving in a single day. If that sounds crazy, then you haven't experienced the commitment to succeed of some of our members!
After arriving and a quick lunch at an awesome 6,500 won buffet (with fresh vegetables growing outside the restaurant), we were off to see the first property.
Property #1 is located in the heart of Sokcho's retail district on Rodeo Drive (the same name as the one in Los Angeles). Rodeo Drive features retails shops from many major brands including Adidas, Puma, and of course Starbucks.
The street seems to be undergoing a transition, with older-looking shops mixed in with some very nice, modern, newly redesigned-looking storefronts – a little like Itaewon. The sidewalks are broad, paved, and pedestrian-friendly. According to one investor, Sokcho's Rodeo Drive is home to many big brands as the brands know the tourist traffic from across Korea is a great way to raise awareness of their products. Instead, of opening stores across Korea, open a store in a place that everyone visits.
Rodeo Drive is also home to one of Sokcho's biggest attractions – Jungang Market, a fish market.
As the busiest retail district in Sokcho, Rodeo Drive has a lot of desirable characteristics -consistent foot traffic, an always-busy Starbucks, and a fish market that draws large crowds throughout the day and especially at night.
Additionally, a CGV is being built right behind the main street.
Buying a commercial building (a whole building) in this district might seem like a daunting task. But our investors were able to do it with the help of their real estate agent who held this property as a "pocket listing " – a property that hasn't been officially listed yet. Their real estate agents called them first, as the investors have a reputation for being able to close on a property.
The building they bought is a two-story property zoned for both residential and retail. It's located at the beginning of Rodeo Drive. It has a rooftop with a view of the ocean.
It's a connected to Rodeo Drive through a walkway that leads to the main building. With the space zoned for both residential and commercial, there are lots of possibilities for maximizing return on investment. Currently, it's being used as a residential space, but the consensus seems to be that renovating it into a commercial space would bring a much higher ROI (Return on Investment).
Blink and you'll miss it! But this property's desirability lies in its location – right in the heart of Rodeo Drive.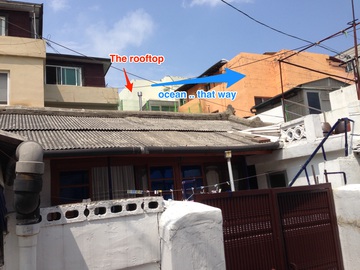 So how much did our investors pay for this building? Here's where things get interesting and creative.
The initial price was 45,000,000 won (although the investors valued it at more than 50,000,000 won at the time of purchase). It was a "quick sale, " meaning the owner wanted to find a buyer fast. After some negotiations, our investors were able to drop the price to 33,000,000 won.
Given the location of this property, the price seemed to be a steal. But the deal got even better. Our investors were able to market the building to a new tenant before the sale and found a jeonse tenant willing to put down 30,000,000 won to live in the space for two years. This money was given over to the seller, and our investors only had to pay the remaining 3,000,000 won to take control of this property.
The easiest way to picture what has happened is to imagine that the tenants gave them an interest-free "loan " to purchase the building. The investors, of course, are still responsible to repay that money to the tenants when they move out.
I know you have questions:
And I'll start to answer those questions as best as I can in future articles.
But what I wanted to show you with this first deal is that the key to succeeding in real estate rests not with having tons of money but with knowledge and networks. Without having knowledge of this type of investing, knowledge of the neighborhoods in Sokcho to recognize great deals, and without having strong networks such as real estate agents that are willing to send them deals first, this purchase could have never happened.
Now as for clues regarding potential exit strategies for our investors: The property value, according to their agent, has already risen over the original purchase price, which means that should they choose to do so, they could sell the building or ask for a higher jesone deposit when it comes to signing a new tenancy agreement. However, converting it to a commercial space might be the most profitable option of all. Think about this: if they sold for a mere 40,000,000 won (and all signs indicate that the price would be higher than that); paid back the jeonse to the tenants (30,000,000 won); and paid themselves back for the original 3,000,000 won they spent, they would be left with a 7,000,000 won ****profit after two years. That's more than two times their original investment in two years.
Alright, I look forward to hearing feedback, comments, and questions from you. I plan to write I plan to write further updates in the near future.
What do you think? Do you think the investors got a good deal? What would you do with that space? Let me know!
The Sokcho Real Estate Investing series is not intended to encourage people to invest in Sokcho. Nor do we have any products for sale or investments opportunities to offer. We simply want to help educate our members about potential Korea Real Estate investing strategies through the experiences of some of our members. We welcome all feedback.